I have to admit that I'm
really
stretching the limitations on my "H" for this week since technically
het
is the Dutch equivalent of "the", but I hope that Mrs. Matlock will see that my
h
eart is in the right place and not think of me as a rule bending
h
eathen.
Het Loo Palace (
Paleis Het Loo
) was the residence of the royal family for nearly 300 years, and has now been restored into a museum and gardens for the public. You can't take pictures inside the palace itself, but check out this link to
take a peek into one of the bedrooms
.
The gardens of Het Loo are absolutely lovely though and you CAN take pictures out there!
This type of garden is called
parterre
, which is "an ornamental garden where beds and paths are arranged to form a pattern."
Immaculately trimmed scrolly
h
edges are surrounded by topiaries and different types of annuals and perennials which are also framed with
h
edges.
There are many statues and fountains throughout the gardens.
If you turn around and look back at the palace, you will see these lovely golden doors. How'd you like your back doors to look like that?!
Surrounding the garden is a massive moat of epic proportions. Okay, massive moat of epic proportions might be a bit of a
h
yperbole, but it sounds more impressive than "little wimpy ditch around the outer edges."
A wide variety of plants go into the gardens so that they can be enjoyed year round.
I'd really like to know where I can find seeds for an orange tree like this though!
I should mention that Loo is pronounced more like "lo" (rhymes with "though") and not "loo" (rhymes with zoo). I know better, but I say it like "loo" and giggle because I'm immature and it sounds like what Brits call the toilet. *ahem*
*****
I'm participating in
Mrs. Matlock's
Alphabe-Thursday! Click the link below to see what other
h
opefully
h
appy things people have posted about.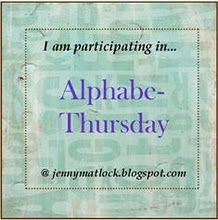 ***
P.S. If you missed my
new blog design reveal post
, go back and check it out! I'm giving away a customized sock monkey to one lucky person.